Welcome - "Music for the Soul" 
My friends say: "Welcome to the JFF music experience,
where people come together to seek inner harmony in their lives"
Introducing Magical Realism by Healing the World through song
"Composing Music to me is a medium to help reawaken in all of us the inner peace that exists deep within every human being"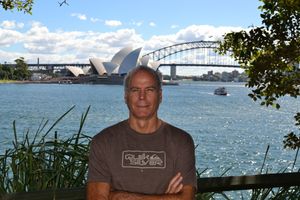 INTRODUCTION
Thank you for visiting!  Enjoy the music of John Franklin Fletcher.  My message and vision for my music is to help inspire, awaken the thirst for the true peace that already exists inside of you.  It's not about the music but the MUSIC'S MESSAGE!  You are precious, one of a kind and part of the DIVINE, home is within!
My instrumentals are unique and are inspired to help reawaken in you, that inner feeling, that you are born to be!
Click the site wide player to listen to a variety of my favorite compositions!  What I stand for as a human being is reflected in the music. Enjoy the music's message and your journey of life on this sacred planet!  As my friends say, "welcome to the JFF music experience!"
John Franklin Fletcher is a modern day troubadour, healing the world through song. He writes for a range of topics: back home, celebration, children, divine poetry, fitness, life, love, mail/elevator, movies, sacred journey, time, the world,  and yoga.
John Franklin Fletcher is a Music Philosopher (a Greek word meaning, a lover of wisdom). He talks about life, reminding the listener through his own personal inner experiences, of a groundbreaking course by Prem Rawat Know yourself - teaching anyone interested in understanding and uncovering the peace that exists within each of us.

He engages the listener to ask deep questions of life and existence.  John has shades of Bob Dylan, Leonard Cohen, Jack Johnson, The Moody Blues, Pink Floyd, Johnny Cash and David Bowie.
John's music is in the RAW, no major mastering or editing, just the original sounds he conceived in his feelings and composing.
John knows that his musical voice is not up to par but stating that, it is his own unique voice signature. It is his message that he believes is most important to convey to his listeners.  

He is an electronic musician. John started his music career in May, 2013.  All his work was done exclusively on his Ipad mini using GarageBand and music apps.  As of March 25, 2016 John started using his Ipad mini and Logic Pro X to keep the integrity of his music alive and not over mastered.  All songs hereafter are written in 444 hz, my choice for optimal tuning.  In February 2017 John started integrating Hooktheory, an incredible music composition website in his music compositions.

He is a prolific writer and to date has written, composed and added 3,550+ songs into his music catalogue in the last 10 years.  You can donate, preview or listen to his entire albums or tracks.
I write for me.  I have no clue what classification my music is, in a sense don't really care, don't want to box in my musical expression.  I am looking forward to getting more instruments in my library.  Each instrument has it's own color and I want to explore more tonal combinations in my music.
The songs come from a very deep place inside of me. I do not really take credit for the music, just let go and let the magic happen. I let the feeling of my music write my lyrics or the other way around! I just feel the energy and my subconscious brings in the words or music composition, magic happens.
Come join me on a musical journey of magical realism, "music for the soul" and check out  my Private Albums to hear my songs from my humble beginning to my latest favorite songs.   You can check out my favorites by category.  Check out My favorite tracks by Series.  
My album Only A Few Want War is a suite of 365 tracks about LIFE! The war is going on both outside of us and inside all of us. Seek inner peace, love, harmony and joy. It is in each one of us.  

John uses the artist name Fletcher Soul Traveler in his debut into country soul.   All songs are written & composed by John Franklin Fletcher.
"It has been an awesome experience".  Please check out John's Biography to learn more about his background and what has shaped his approach to music.

I want to thank my wonderful family, awesome friends and YOU for your support of my music.  Special thanks to Johanna Fletcher for her supportive work. 
All of John's music is for donation only.  Let your heart guide you.  Please feel free to download, preview or listen to his entire albums or tracks. Let's all celebrate our lives through music .  

With gratitude,
John Franklin Fletcher
MUSIC FOR MUSICIANS: The Complete Works of John Franklin Fletcher
John Franklin Fletcher is a songwriter/composer whose primary purpose is writing music for musicians . John's complete music anthology works, many of which are unfinished, are just waiting for the right musician to come along and publish them in their music catalogue. John's published catalogue has been removed from all digital stores and will be reissued in the future.
Sync Licensing Opportunities: A lot of John's instrumentals and music are well suited for placement opportunities in film, TV, commercials, video games & more ,  Please contact John's publishing administrator TuneCore for further details.
This complete catalogue has many gems among the rough.  The journey ahead is to identify the good songs and package them into stories that can last for generations to come.
John Franklin Fletcher - Modern day troubadour, healing the world through song
Donations Kindly Accepted
You are free to download any and all my music for free. Enjoy the message of hope, "music for the soul"!
Enter the amount you wish to donate